Ready for a Bank Holiday Challenge?
Posted on April 26, 2023
Get out and explore this May with Treasure Hunt Sheffield. With a bonus bank holiday in 2023 👑 and games all over the UK, how many Treasure Hunts can your crew beat?
Who doesn't love May? The weather's warming up, days are getting longer and in the UK we have not just one, but THREE bank holiday weekends! (Can I get an Amen?! 🙋🏽) We've been preppin' the ship here at Treasure Hunt HQ, we've got the winds in our sails and are adding games in new cities all the time. So we'd like to throw down a gauntlet- can you and your crew take on three quests in three different cities this May?
How does it work? ☠️
It's designed for adults, so you'll have a laugh together. Crews can be any size, although it might be more fun to split into smaller groups and see who can be the first to solve the final clue! (8+ are welcome too if you want to make a family day of it).
You'll be testing out your essential pirate skills - following treasure maps, solving cryptic clues, and looking carefully around the city to find the answers. You'll be answering to Captain Bess, your bossy pirate leader who'll send messages to your phones to guide you along the way.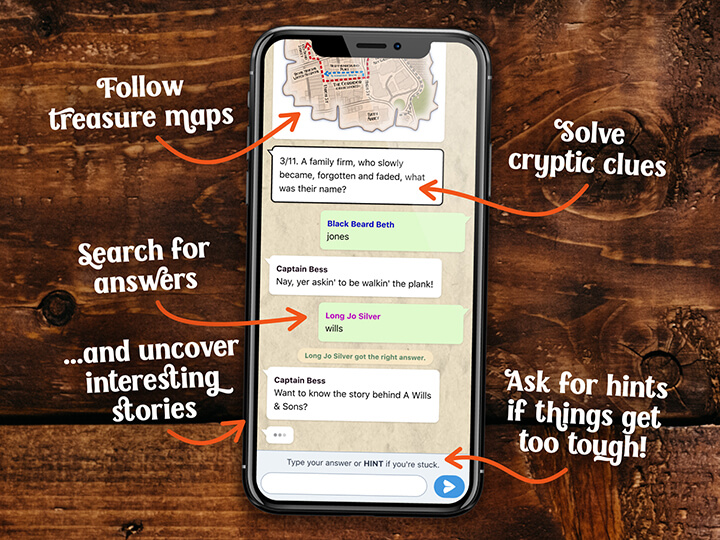 Mayday Challenge
As well as our route in Sheffield, we have games across the UK. The two nearest routes to Sheffield are York and Leeds, both easy to get to by train.
Assemble your crew of landlubbers and complete three different hunts in three different cities during the three bank holiday weekends in May. Conquer your quests and unearth all the lost treasures of Captain Bess!